Results driven Winter cycling programs for all levels
With Canadian Cycling Coach: Sylvie D'Aoust
WINTER CYCLING TRAINING PROGRAMS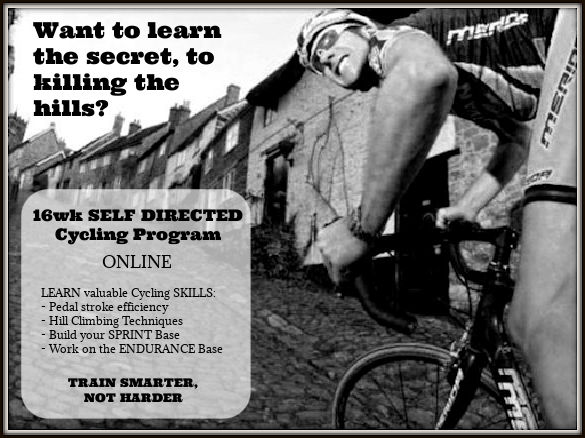 16wk SELF DIRECTED Cycling Program.
Are you driven and motivated to train on your own, but would like to develop better cycling skills & techniques?
This 16wk program is for you. Receive a weekly interval session that is coupled with an instructional video about the skills covered.
Using this program will help you elevate your efficiency on the bike. Go ROCK the Zwift world.
This program is a happy medium between the full on 20wk Online Winter Training Program and the 16wk Self Directed Program.
One night a week, join the coaching session that covers the skills & techniques you need to to take your indoor training to a whole new level, which translates nicely to being prepared to a strong start to the Spring.
Developing skills are as important when riding inside as they are outside.
This incredible woman runs a program that you can't say no to! You do at your own pace and you never feel guilted into anything. Her exercises are gentle on your joints but get your body in great shape! And her cycling program is second to none!
Sylvie is well informed and a great motivator and inspiration. As a mom with 3 kids, Sylvie D'Aoust is able to show that you can stay in shape while keeping a work/life balance. Thanks Sylvie!
Sylvie is an amazing coach and very knowledgeable when is comes to nutrient timing and sports training. She wants nothing but the best for her clients and her years of experience in this field really shows. Highly recommend her!
I have been following her home routine for the last 4 weeks and I find her program very well formulated and easy to follow. I am new to the 50 sec sets with 10 sec rest and find it more enjoyable and effective. She takes the time to go through all of her routine and describes each very well. She includes proper form, breathing and stretching. Considering we are all doing this from our homes, her routines gives enough to be able to modify and still get the benefit of a great workout to start your day. Best of all it is FREE and full of important content. Highly recommend!
Sylvie D'Aoust is great to deal with she really knows her stuff. Which is one of the reasons I chose to deal with her for food and training. Whenever I'm trying to learn something or better myself my theory is to try and find out who is the best in the field and learn from them because even if I can only be 10% as good as the instructor then I will be better off learning from the best. If you want to get in better shape, or just start feeling better or having more energy in general, I highly recommend you give her a shout!
Sylvie is incredibly knowledgeable, has years of experience and most importantly has lived fitness and nutrition for most of her life. She is patient, kind, helpful, encouraging, funny, enthusiastic and flat out a decent and wonderful woman. She will guide you to being the best you can possibly be!
Sylvie is a great motivator and practices what she preaches and catch her FB live events for some great tips and sometimes even some great laughs.
I took a couple of private cycling lessons with Sylvie and it made a big difference in my cycling. As a beginner cyclist, her knowlegable approach really helped me to push my limits. She helped me gain confidence on the bike, learn new techniques and left me with lots of drills I can continue to do on my own. I would highly recommended Sylvie for anyone looking to do improve their cycling skills!
Réal Cyril Nathan Andrews
There is no better when it comes to Sylvie I have been coaching for 49 years and she is top of the Class. God Bless Réal

2024 SPRING CYCLING CLINICS
Founder: Wakefield women's gravel grind
Click HERE to follow the event on Facebook.
Three distances:
30km, 50km, 70km
5 women's race categories, including a Non-Binary category.
In Partnership with Vorlage Ski Hill and the Municipality of la Peche.
Date: July 15, 2023
Part of the I Love Gravel Racing Points series. check it out HERE
Secrets from the Saddle: All things Cycling PODCAST
As a Cycling Lover for the past 20 yrs, founder of a woman's cycling club, ex-racer, team manager, race organizer….
I'm so passionate about Cycling, that I started a Podcast showcasing all the aspects of the Cycling World and what makes the Sport of Cycling Thrive.
In addition to showcasing the many aspects of the cycling world, I'll bring cool and fun interviews from:
Coaches
Racers
Pros
Bike Shop owners
Event Organizers 
So much more!
BEST SELLING AUTHOR - Book Collaborative
So grateful to have been approached after being a guest on a podcast about being a Single parent.
The book collaboration was with 9 other amazing single parents all sharing our success stories and how we moved on to greater things.
Together we worked to get our book on the Four BEST Sellers lists in 3 countries through Amazon.
Check it out HERE
FOLLOW my YOUTUBE Channel
FOUNDER: CYCLEFITCHICKS Women's only road cycling club
Sylvie D'Aoust Founder of Ottawa/Hulls largest Women's ONLY Road Cycling Club.
Since 2008, Sylvie has coached over 1000 women through her club.
Empowerment and building confidence is what she loves to do.
The club is a place where women can share their love for cycling in a safe, friendly, encouraging environment.
Where BEGINNER cyclists are welcome & EXPERIENCED cyclists are challenged.